Dear all,
TLDR: Are land taxes really 280

/week? Do they go to the treasury (so that we can siphon it back)?
Sorry for starting a new thread, but I wanted to keep this as a separate topic.
I might be misunderstanding the land tax system.
I want to show my problem on a simple example of a vertically integrated
chain.
What's the full profits for a theoretical production chain which produces 1
?
Profit pre taxes = Revenue - Expenses
Profit post taxes = Revenue - Expenses - Land Taxes

Revenue = 630

1 cloth shop produces 1 cloth which sells for 630 (1.8 multiplier to base price at X1 according to the ini file)
We have no other revenue, because the

simply get used up in the vertical chain.

Expenses = 525

1
shop needs 1
shop which in turn needs 1

shop -> 3 shops
1 shop uses 25 workers, each gets 6

daily, plus 25

for running costs (base is 50

but we assume we researched the techs).
That's 3*(25*6+25)=525


Land Taxes = 120

land taxes cost 280

/7 days.
We have three shops in the chain.
That's 3*280/7=120

Profit pre taxes = 630

- 525

= 105

Profit post taxes = 630

- 525

- 120

= -15

And that's a loss actually post taxes.
I attached a graph which contains all chains' respective profits before and after taxes.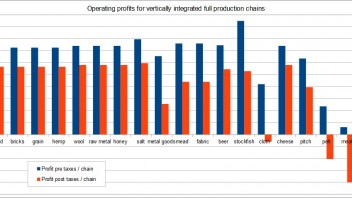 (Yes, even before taxes

are pretty bad for vertical integration targets according to this simple calculation.)
Aka, if land taxes work like 280

/week applied across all buildings and the tax does not go into treasury where we can siphon it out, then the cloth shop chain actually drains money.
I really fear that this is the case, because I just got my hands on a full hansa save.
It had 38047 shops, 38068 houses and 943 warehouses which should cost 30 823 200

.
The 10 day projection on the balance sheet said 28 790 800

and kept climbing.
I don't know why it is off by a little but it is in the ball park of the 280

/ week tax which is troublesome.
A small note:
I only used the end product trade as revenue.
I could've added rent, head taxes etc...
Best regards,
rkeeves